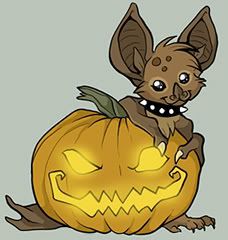 I know a lot of you kids have or have tried Corel Painter :1 Did you buy it or acquire it through uh... less legal means (info plz wtf)?
I'm dying to try it, I always see such fabulous results with it, and I know you all clearly want to watch me fumblefail my way through learning it :3 I didn't see a demo version on the website, but maybe I is blind, they must have one. Though they're usually equipped with stupid blocks such as not being able to SAVE anything you do. EDIT: Durhurr, found the demo, I'll have to try it when I get back from work. Assuming my computer doesn't crash and die.
Anyway, boo sorry for the lack of art as usual, guys. School is kicking my butt. I do have a Halloween-ish picture that I hopefully will get done tonight to share, but no guarantees. It might be a little late (it's more of a creepy-ish thing than traditional Halloween, but apparently I only have time for like, one art per month now so wtf).
Uhmm. That's it. ILUguys

Whatchoo doin' for Halloween?